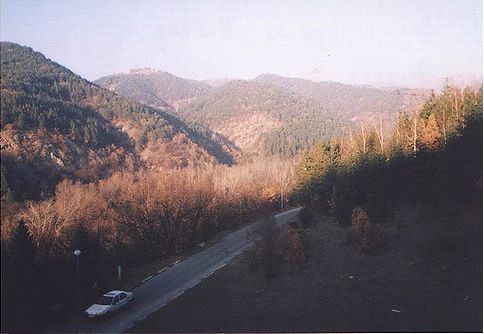 This essay was a winning submission to a contest held by the American University in Bulgaria in 2001 in celebration of the school's 10th anniversary. The topic: "AUBG: Mission Possible?"
 
What mission? Nurturing future leaders does not count as a mission—future leaders are a by-product. Liberal arts? Providing liberal arts education is not the University's mission—it is one of the Blagoevgrad's downtown edifice. "American University in Bulgaria" shines proudly off its sides over the town. What a confusing misnomer. The real University is not brick and mortar, glass and marble. It's not in any of the classrooms, labs, gyms, dorms or even canteens. Not exactly. AUBG is in the hearts. There it teaches. There it lives.

AUBG's true mission is to reverse the story of Babel, re-blend the tongues of the ever-warring region into one Absolute Esperanto. Its mission is to bring together young people dispersed and locked in their hundred (nevermind their eighteen) years of ethnic, cultural, historic loneliness. Its mission is to amalgamate an Über Nation without wars and hatred, where Knowledge is an elected President and where Friendship holds the monopoly of power. In that AUBG has never failed.

I remember myself on my first day: a foreign freshman stuffed in a room with three Bulgarians, not even knowing how to nod correctly in this strange country. My Bulgarian has crystallized out of the Bulgarian-English-Russian-Moldavian lingual soup my roommates and I devoured. A young Kazakh woman speaks Serbian to a Montenegrin, watching his jaw drop. Another, a Bulgarian, converses in Bucharest with its natives. A Romanian starts singing along to Russian music. Making grammar mistakes? To hell with mistakes! Understanding each other—that's what matters. "Te dashuroj, te obicham, te iubesc, ljubam te, yes kez si'rumem, liubliu tebia, volim te, szeretlek te'ged." Can one really mispronounce "I love you"?

We moved beyond understanding, slowly developing a common system of symbols. The landmarks are equally familiar and dear to all, regardless of age, sex or origin: Underground, hiking, Bansko, beer, MUD, IRC, deadline at 11.59 p.m. Sunday, dead computers, Volga's lobby, JMC, Pegasus, a Chavdar bus, Napoli. Banichka is now an international word. So is otpor. AUBG kept converting ethnicities into all possible permutations: Belarusians into Bulgarians, Moldovans into Albanians, Armenians into Macedonians. We became a whole, throwing our nations' squabbles and politicians aside. Instead of the solemn building, the University's seal should've featured a canteen scene: a Kosovar hugging a Serb over CNN's bombing coverage.

AUBG is not about what others, the untouched, think it is. Liberal arts, English, computers, books, Western philosophy, black leather-clad diploma printed in a gothic font make only a fraction of the university's true unique meaning. After all, this quality academic matter is similarly available elsewhere. What AUBG truly means to us is the four years of mastering the Absolute Language, breaking the shells of our stereotyping seclusion. To one generation after another, AUBG means growing from a humble "stupid" freshman into a cutting-into-the-canteen-line senior hand in hand with people we previously thought to be from another planet. For us, the acronym A-U-B-G stands for
Aaaaaaa! Awesome! Ask asl. Answer ASAP. Ah, Angela, Anguel, Anastasia, Atanas, Andrej, Andreia, ans960@, "Amigo, abstaining?!" An Aspirin after—aposteriori. Anthropology 101–-all A's. ABM, ad-hoc, Algiers, abdication—A's again. Aspecter and airian--an attitude. Alkazelzer—all-time aid against Absolut Armageddon, Alt+F4. April. Away. Alt+Ctrl+Del.
At

Underground--U2 unplugged. Ulcer--unavoidable. Unisex underwear--utterly unnoticeable. UDF—unifying utopia. Uninstalling UNIX? Unacceptable, undo. "Understand utility, UCC, unemployment, uncollectibles?" "Uh-huh."
Unwashed

bus brings back Bachinovo, Bistritza.
Break-up bashes, bends:
Bewildered boyfriends babbles: "B-b-but..."
"Bye, bambino." Bonjour, bachelor.
Buddies beckon, beginning banichka baptism. Ben's busy buying "Bankja", bananas. Bansko-Blagoevgrad-Borovetz. "Boje!": BUS 354 brought B-. Bragging 'bout bossoms, "Baaasi bebeto!...,"

girls grin. Gossip: "Gencho, Galia? Graffiti?" Giggles. Georgians greet: "Gamarjoba, genatsvale." Geniuses going gradschoolward: GMAT, GRE's "gait, gall, gallivant, gregarious..." Geez! Graduation: goofy gowns, gaping grandparents. "Good gang, guys'n'gals. Go, govern!" Greece, Germany, Grenoble, Gabrovo. Gone.
Gone? Never. Simply relocated.

A friend of mine, who writes for a large newspaper in Bulgaria, complained to me once. "You know," she said, "you guys are everywhere."
"How do you know it's us?" I asked. Had she run across boastful AUBG pins, ties, t-shirts or framed diplomas, I wondered.
"No, no. Somehow you all are different. Everywhere I go I spot one or two and then ask. Never got it wrong. It's something in the eyes, if you know what I mean."

I knew exactly what she meant.

AUBG is in the hearts and the hearts require no shiny bronze. The eyes say it all. I remember walking down a London street once. As my eyes did the sightseeing part of the trip, they stumbled over a pair belonging to a thoughtful stranger. For a moment his stared at mine from under stylish glasses in quiet perplexity, then smiled as broad as the eyes can. The stranger passed by without uttering a word, without looking back, but by then I knew. He might not have been a leader of his region. Yet he was one of us, carrying AUBG, a symbolic 4 a.m. banichka in his heart around the world. He spoke the Language.
Sofia, 2001